The Ultimate Driving Machine® deserves ultimate protection.
We all know that no two roads are alike, neither are the driving habits of any two BMW drivers. That's why we offer protection programs that give you the most important benefit of all - peace of mind. Ensure your vehicle is completely protected with the full suite of products from the BMW Ultimate Protection Program. 
BMW Extended Vehicle Protection Plans
•
Covered repairs performed at an authorized BMW repair facility.
•
Only 100% original BMW replacement parts.
•
24-Hour BMW Roadside Assistance, in the unlikely event of a breakdown.
•
A worry-free ownership experience.
•
Your vehicle's resale value is protected.
•
3 Levels of Coverage - Powertrain Plus, Gold, & Platinum
•
Various Terms and Mileage Coverage (5 to 7 years or up to 100,000 miles)
For additional information view here.

BMW Guaranteed Auto Protection (GAP)
In the event of a vehicle theft or an accident that results in a total loss, most insurance companies only reimburse the owner for the market value of the car. This, along with the deductible, can create a significant gap between what your insurer will pay you and the balance on your loan.

Be confident with BMW GAP

Because of common risks associated with theft, collision and natural disaster, the chances of your vehicle being involved in a total loss are greater than you think. With BMW GAP, you can be confident your deficiencies or deductibles will be paid off.
For additional information view here.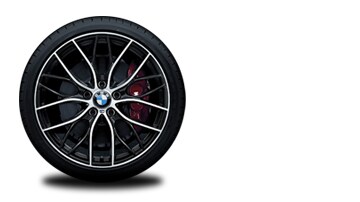 BMW Tire & Wheel Protection

Protects you from the hazards of the road.
 
The BMW Tire & Wheel Protection program provides coverage in the event of damage to your tires or wheels as a result of metal, nails, glass, debris, potholes, blowouts, etc. (excluding cosmetic damage). You can choose a plan that covers your vehicle for up to 5 years.
Program benefits include:
 
•
Ultimate peace of mind. You no longer have to worry about unnecessary financial hardship in the event of damage due to a road hazard. We have you covered.
•
Damaged tire(s) will be replaced, not plugged or patched.
•
There are no maximum number of occurrences, no claim limits and no claim aggregate.
•
Benefits are not restricted by vehicle mileage.
•
Program benefits continue even if you replace your tires.
•
Up to $100 of towing expenses are covered.
•
Transferable - adds resale value. 
For additional information view here.